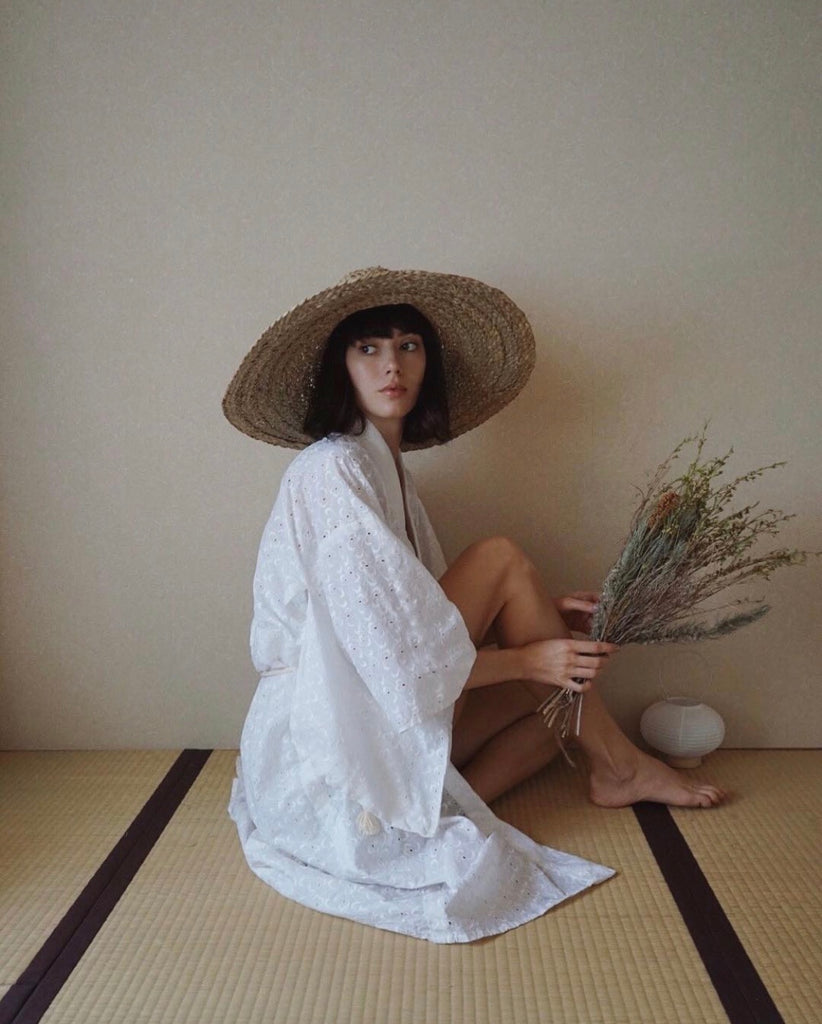 One way to be more thoughtful about our consumption choices is by investing in vintage - garments that are 20 years or older (antique if it's over 50 years). It's easy to be enchanted by vintage, they're wearable pieces of history made more special when we give them a second life. They've had a past before getting into our hands, its own story woven into its fabric. Vintage is also often made of higher quality, more so when it comes to Japanese kimonos, so if you choose well and buy a good piece, it can only gain more value in the future.
新しい消費の選択肢の1つ、ヴィンテージを買うこと。
ヴィンテージとは、20年以上前の衣類のことを指します。(50年以上前のものはアンティークと呼ばれます。)
私たちがそれらの服に新しい命を吹き込んだ時、着ることのできる歴史はより特別なものになり、すぐに魅了されてしまいます。
ヴィンテージの服は、私たちの手に渡る前に多くの歴史をたどってきています。服には独自のストーリーが織り込まれています。
ヴィンテージは高品質で作られていることも多く、日本の着物に関してはいいものを選ぶと、将来的にさらに価値がつくことがあります。
One of our favorite vintage accounts on Instagram is @loveforkimono. It's curated by Tokyo-based model Yulia Shumakova, whose sharp eye for finding beautiful traditional robes is worth a follow. We spoke to Yulia about how she started her kimono collection.
インスタグラムのヴィンテージアカウントのお気に入りの1つが、@loveforkimono です。
伝統的な羽織を見つけることのできる素晴らしい目を持つ、東京を拠点としているモデルYulia Shumakovaのアカウントです。
彼女が着物を集め始めた経緯を、ご紹介します。

"While living in Japan I have been collecting vintage and antique kimono that I found at the markets and thrift stores. I would post pictures of me wearing them on Instagram and Facebook. Quite a few people outside of Japan had an interest in purchasing from my collection and that's when I have decided that it could be a good business to start . So Love for Kimono was born, about three years ago."
「日本で、私は市場や古着屋でヴィンテージやアンティークの着物を集め、インスタグラムやフェイスブックに着物を着ている写真を投稿しています。日本国外の多くの人が、私のコレクションを購入したいと興味を持っていたので、私はそれを仕事として始めようと決めました。そしてLove for Kimonoが約3年前に誕生しました。」
"It's not hard to find vintage kimono in Japan now because, sadly, the traditional wear is not popular nowadays and many people throw away the collections from their family. Sometimes you can find really beautiful and unique pieces that haven't been worn at all."
「悲しいことに伝統的な着物は最近人気がなく、家族が持つコレクションを多くの人が処分しているので、いまの日本でヴィンテージの着物を見つけることは難しくありません。時々、一度も着られていない、とても美しく個性的なものを見つけることもできます。」
"When I pick a kimono, I look for big damages or stains first. Also, I try to choose shorter garments as it's easier for foreigners to wear them without an obi belt and folding at the waist. Love for Kimono doesn't represent a traditional a way of wearing a kimono, so people can use those garments as an evening dress or a luxurious robe."
「着物を選ぶときはまず、大きなダメージや汚れに注意をします。また、外国の方は、帯を付けずに腰で重ねる方が着やすいので、短い丈のものを選ぶようにしています。 Love for Kimonoは伝統的な方法で着物を着ることを伝えるものではないので、人々は着物をイブニングドレスや豪華なローブとして使うことができます。」

"For myself, I wear my casual pieces at home or when I'm outside of Japan I could wear it to a party or special event. At the moment I have around 15 kimonos in my personal collection. I love every kimono that I find and I wish I could keep them all!"
「わたしの場合、家ではカジュアルに、海外にいるときは特別なイベントに着ていきました。いま、わたし自身のコレクションとしては15着の着物を持っています。見つけた着物、全てが大好きなので、全部自分のものにできたらいいのに!と思います。」


@loveforkimono